Five Ways to Celebrate Easter
Easter is just around the corner and we're starting to plan our celebrations. As well as the religious celebrations of Easter, for many people this particular holiday is also a time to celebrate with chocolate, sweets and baked treats. For many, Easter is also a time to celebrate with family and friends, and enjoy a traditional dinner together.
For this month's blog we're counting down five great ways that you can celebrate the Easter holiday, some traditional, some not so much!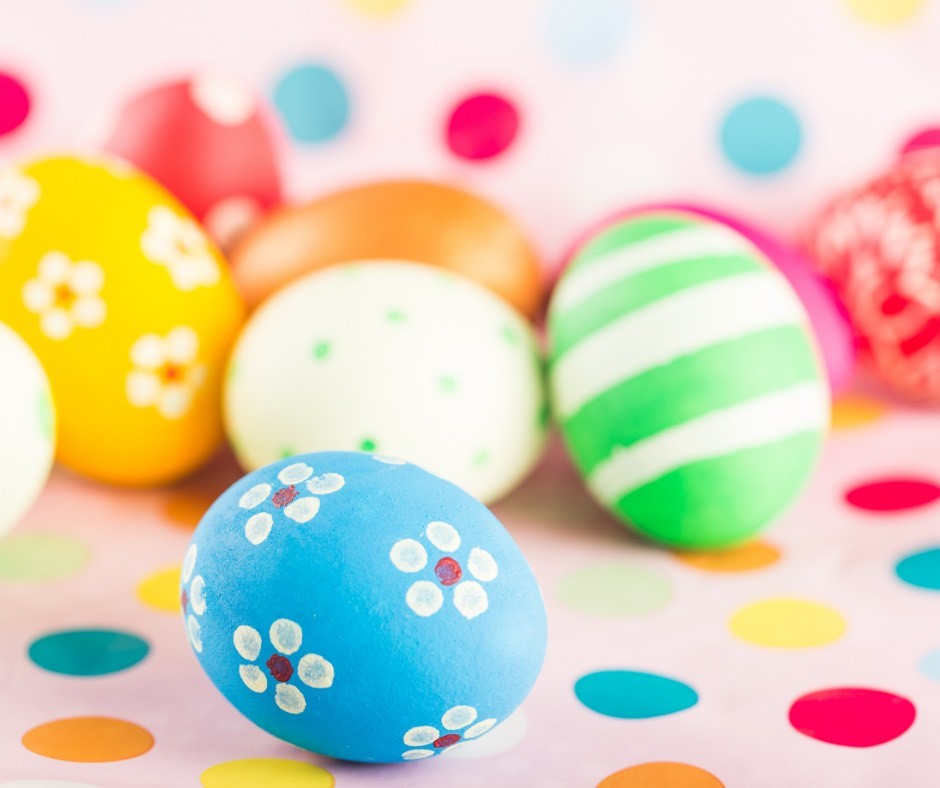 1. Get Crafty – decorate your own eggs.
With a focus on reducing sugar in our diets you might want to steer away from chocolate eggs this year. Instead, why not go traditional and paint and decorate some eggs?
To make the egg dye, mix 1 teaspoon of vinegar with a 1/2 teaspoon of a food colouring of your choice. Dilute the mixture into 3/4 of a cup of water, ready to dip your egg in.
Wash and dry your eggs and then, if you want to, clean out the eggs. Here is a great tutorial on how to blow out your eggs.
Dip the eggs in your chosen colour (or colours) and leave to dry.
Once they are dry you can embellish or paint. Let your imagination run wild and try out different combinations. If you want to paint patterns on your eggs use acrylic paint and a small craft paintbrush.
Display your eggs on your Easter table, hang them on a tree or give them as gifts.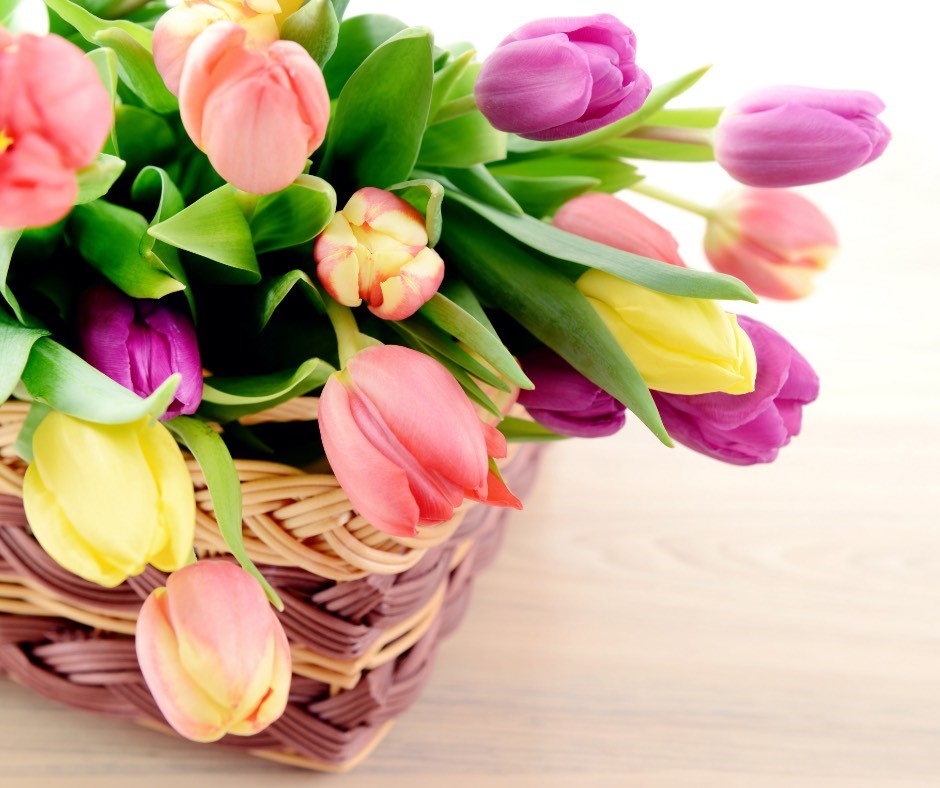 2. Create Easter Baskets
Easter baskets are traditionally filled with food, eggs, toys or other gifts depending on your culture and tradition. The Easter basket is the perfect way to present a gift for children on Easter morning or to give a gift to your dinner host. A simple basket filled with spring tulips and eggs could make a beautiful gift.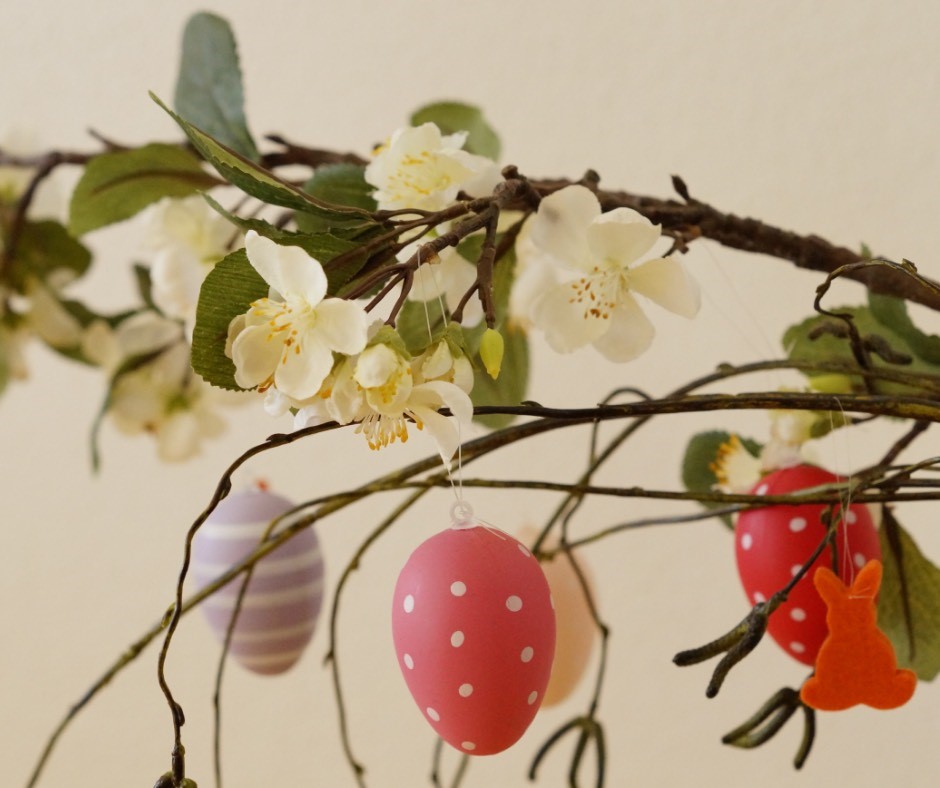 3. Plan an Easter treasure hunt
Kids and grownups alike enjoy a traditional egg hunt. You can make it as exciting as you dare, why not create a treasure map and hide clues in plastic eggs. Put down bunny paw prints for little ones to follow and lead them to different puzzle pieces to collect and put together at the end. Alternatively, keep it simple and hide your eggs around the garden to be found by your excited hunters. To make this kind of egg hunt a little more exciting you could add in a time trial and get the grownups involved.
4. Host a traditional dinner for family and friends
Easter is a great time to get your friends and family together and celebrate the start of spring. Pull out all the stops and decorate the table with small branches and twigs, hang off small decorated eggs for a show stopping look. As for the menu, you can go traditional with and make a lamb roast with all the trimmings. Alternatively, why not go for something different and a plant based feast, showcasing the best season veg that you can find.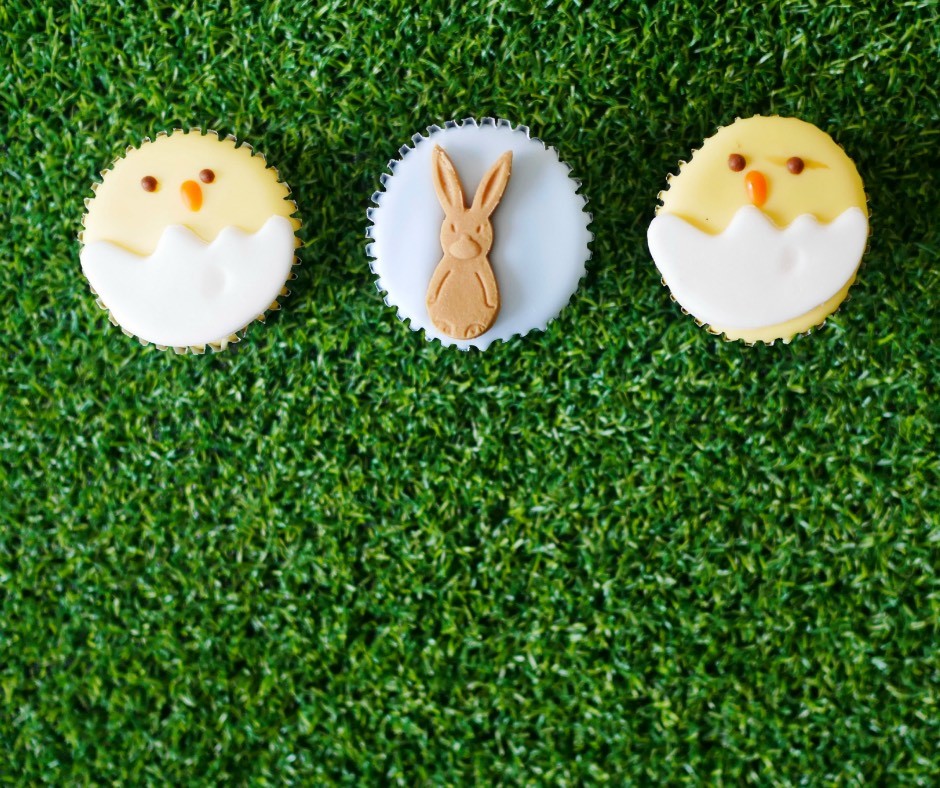 5. Bake some Easter treats
As well as traditional chocolate eggs, it is lovely to make your Easter gifts a bit more personal. Even the most reluctant baker could manage to pull off a culinary masterpiece with our simple cupcake recipe (makes 12 small cupcakes):
You will need:
1.2 cup Butter
2 ½ cups of flour Self Raising Flour
2 teaspoons Baking Powder
1 ½ cups of Sugar
2 Eggs
2 ½ teaspoons Vanilla Extract
Icing Sugar
Food colouring of your choice
Easter decorations
Step 1: Place 12 cup cake cases into a small muffin or cupcake pan.
Step 2: Preheat the oven to 350 degrees.
Step 3: Whisk together the flour and baking powder and set aside.
Step 4: Blend the butter and sugar until soft and fluffy.
Step 5: Beat the eggs and combine with the vanilla extract and add to your butter mix.
Step 6: Gradually add your sifted flour and baking powder and blend until smooth.
Step 7: Once all ingredients are combined, pour the mixture into the cake cases and fill to 2/3 full.
Step 8: Bake at 350 degrees for 20 minutes, until a skewer comes out clean from the middle of the cake.
Step 9: Cool on a wire rack.
Step 10: Once cooled, add your coloured icing to the cake and then decorate with your choice of chick, bunny or carrot decals.
Happy Easter!