A Summer Garden Party to Float Your Boat?
When summer favours us with its glorious sunshine there is nothing like a garden party to share quality time with friends, but how do you create a memorable event that everyone can participate in and enjoy without exhausting yourself or your budget?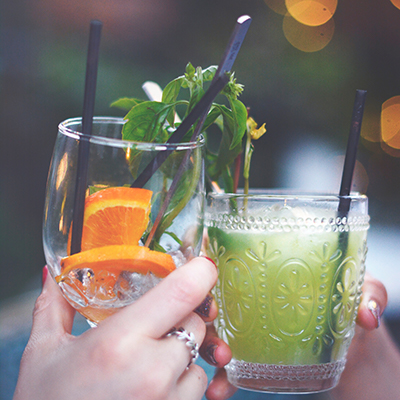 The Concept
We have explored some of the best events that the summer season has to offer to provide a party that everyone will enjoy and remember, including the hosts! Throughout the UK and Europe, festival season is in full swing and we have selected two excellent traditions to provide a theme, a menu and an activity for your summer event.
One of the greatest annual festivals is no doubt Germany's Oktoberfest, a world-renowned folk festival offering great food, music, and of course excellent beverages. Yes, we know October is not really still the summer but why wait until the Autumn to get your metaphorical or literal lederhosen on!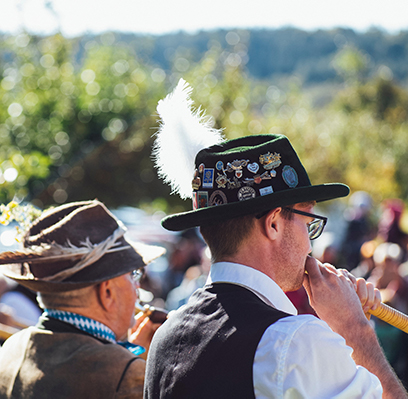 We have taken the best aspects of Oktoberfest that can be translated to a garden party to inspire a sumptuous menu and drinks list. You may also choose to encompass the musical or costume aspects of the festival but more on that later.
Another great summer tradition this time from the UK is The Boat Race, an annual event pitching two of the country's oldest universities against each other (Oxford and Cambridge) as their rowing teams battle it out over a 4 mile stretch of the River Thames.
From this event we have taken inspiration for your party's activity, somewhat scaled down, and invite you and your guests to hold your own boat race using handmade miniature craft sailed across a paddling pool. Miniature self-propelled boats can be engineered using simple instruments such as elastic bands, lollipop sticks, old plastic bottles, balloons and card. The process is engaging and allows both adults and children to indulge their creative side. Testing and racing the craft is also highly enjoyable.
Parties do not have to be complex or extravagant to allow all participants to have a fun and memorable time. A well thought out menu and theme with carefully conceived activities can deliver a party to remember.
Food, Drink and Ambience
So, let's start with the food and drink. In order to save yourself a huge amount of time and stress we recommend a buffet. This allows for advance food preparation, disposable and recyclable tableware should you prefer, and encourages people to help themselves at their own pace.
We are aware that a buffet is not without preparation time however, it does take the pressure off on the day. In addition, items can be covered or refrigerated, and brought out again later for a second sitting dependant on how long your guests are with you for.
We recommend serving all food cold to minimise effort on your part however, you may choose to incorporate a BBQ or use your oven to provide some of the more traditional cooked dishes associated with Oktoberfest. If so here are some ideas.
Buffets can also easily accommodate a variety of diets including vegetarian and vegan items that will appeal to all. Here's what the official Oktoberfest website recommends when catering for these dietary preferences.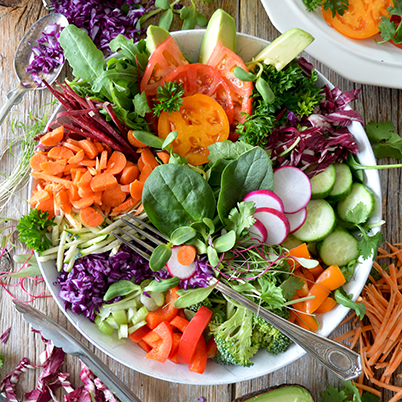 We suggest plenty of salads and encourage you to incorporate items such as fresh and dried fruit, cold cooked pasta, rice, mixed nuts and toasted seeds like cumin to your dishes to enhance flavours. Fish and meat can also be included, dependant on your preference, and you can find information on authentic German salads here.
Salads do not have to be an accompaniment to your menu, they can in fact be the main focus of the buffet and provide a diverse and sumptuous choice for all.
We also suggest providing a variety of breads and suitable dips such as humus and salsa. You can find some suggestions for homemade dips here.
Other foods that can be prepared or purchased in advance, and require minimal preparation, include falafel, grilled haloumi, nut loaf, and cold sliced meats and sausage should you choose.
For puddings fresh fruit salads or fruit skewers can be prepared in advance and are another option associated with the traditional menu for Oktoberfest. Additional traditional pudding options can be found here.
Now we come to the drinks. Oktoberfest offers a delectable variety of fabulous German Beer, a drink well suited to a sunny afternoon that includes many non-alcoholic varieties. You don't have to choose beer but limiting drinks to a theme helps you keep on budget and enhances the authenticity of your event. If you do choose to stick with tradition then a selection of appropriate beers can be purchased online or in a variety of stores in advance.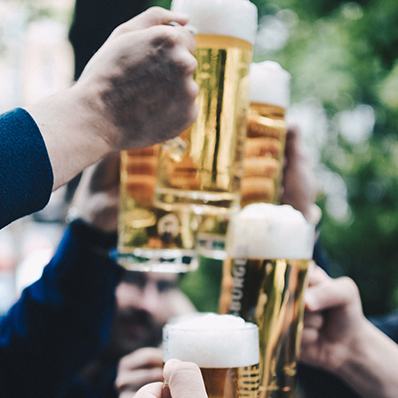 Homemade lemonade, ginger beer or chilled water can also be made available for all and should satisfy the thirsts any children attending your party.
Lastly Oktoberfest is billed as a folk festival, so you may choose to incorporate folk music into your event and even some authentic costume. If you are interested in experimenting with some new music, whether from your country or another, internet radio can provide an often DJ free soundtrack. Alternatively, you can prepare a playlist in advance to suit your tastes or utilise digital streaming services such as Spotify which offer free packages. You can even access an Oktoberfest playlist here.
The Activity – The Boat Race!
While there is no doubt friends can sit round 'chewing the fat' for hours a well-conceived activity will give momentum to your party and ensure that everyone remains involved. It also encourages families to intermingle and may result in some new friendships.
We appreciate that you are unlikely to have a garden that incorporates a stretch of the River Thames however, if you are considering a garden party you should at least be able to accommodate space for a paddling pool or similar water structure erected using a tarpaulin and appropriate surrounds.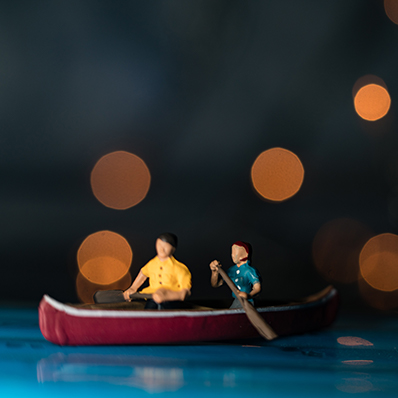 We propose that you furnish your guests with an assortment of affordable or readily available materials to enable them to build their own self-propelled boats and then hold races to test each craft. The boats can consist for example of yoghurt pots or plastic bottles (obviously waiting to be recycled!) or ice lolly sticks glued together or fixed with rubber bands. Rubber bands and balloons can also be utilised to create the crafts momentum.
There are a variety of simple engineering solutions available as demonstrated here and within the following video.
If you choose you could formalise the competition and award medals for the best craft at the end of the races, or merely enjoy the creative aspect of your party.
A Final Word
We hope that this idea has inspired you to create a unique garden party for this summer season. Obviously you are free to take all or merely a few aspects from this post but however you choose to proceed it may be useful to create a wish list of items to refer to. That way you and your family members, or anyone else involved in the organisation of the event, can refer to it in order to ensure you have everything you need. This is also something we can help with, click here for more information and may we say Prost and Bon Voyage!
You may also enjoy the following articles: